Kiawah Island Golf Resort
Kiawah Island Golf Resort is the golfing jewel of South Carolina. With a variety of world-renowned courses and top-class amenities, there aren't many better places to tee off. Located southwest of Charleston, this barrier island boasts beautifully maintained golf courses, a huge number of coastal holes, and breathtaking views of the Atlantic.
Golf courses on Kiawah Island Beach Resort are known for being some of the best in the world, with the PGA Championship and Ryder Cup previously being hosted there.
If you're looking to tee off on a Ryder Cup course, Kiawah Island should be on your list, home of the infamous 'War on the Shore', the 1991 classic won by team USA.
From the Ocean Course to Kiawah Osprey Point, our Kiawah Island golf packages combine some of the best courses with idyllic views and luxurious experiences at Kiawah Island beach hotels.
Golf Courses at Kiawah Island
Kiawah Island golf consists of teeing off at their world-class courses, experiencing a warm breeze coming from the Atlantic, and viewing the waves crashing onto the sand. But despite being a picturesque location, golf on Kiawah Island is as challenging as it is beautiful, and its courses will be a test for even the most seasoned golfer.
The Ocean Course
Kiawah Island Ocean Course was designed by Pete and Alice Dye and opened in 1991, just before one of the most contentious Ryder Cups was held there. The course is rumored to have the most seaside holes in the Northern hemisphere, with eight of them hugging the Atlantic. Some of the ground was even artificially raised at the Ocean Course at Kiawah Island Golf Resort to maintaining the unrivaled sea view. This is a spectacular bucket list destination.
Osprey Point
Designed by Tom Fazio, Osprey Point was renovated in 2014 and is another one of Kiawah Island Golf Resort's beautiful courses that compliments its natural surroundings. There are plenty of natural water features which were designed not only to bring challenge, but for players to think more about strategy when they tackle this course. Osprey Point's holes are all unique, with four memorable par-5s, four difficult par 3-s and ten excellent par-4s.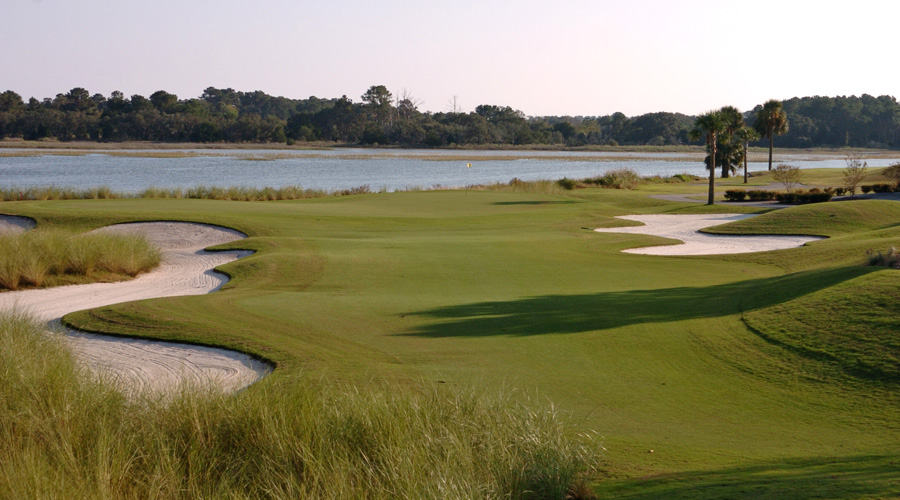 Oak Point
Another celebrated course at Kiawah Island Golf Resort, Oak Point is often seen as a combination of classic Scottish links with South Carolina golf. Course architect Clyde Johnson combined South Carolina waterways and marshes with classic links' bunkers and contours to create a truly unique playing experience. Oak Point is situated next to the Kiawah River and neighbors the maritime forest.
Kiawah Island – 4 Night Package
The Sanctuary
3 rounds of golf, 4 nights accommodation
Garden View Guestroom
Golf at The Ocean Course, Cougar Point & Turtle Point (option to supplement for Osprey Point or Oak Point)
All cart fees & caddie fees for The Ocean Course included
Sightseeing and restaurant recommendations
Price from $1,295 per person
Based on 2 golfers sharing a double/twin room
Off peak season (December)
All taxes and fees included
Price excludes flights, airport transfers and caddies
All rates are subject to change without prior notice and vary according to seasonality and hotel or golf course availability.
Travel insurance is always recommended.
Facilities at Kiawah Island
Kiawah Island golf packages can be tailored to your individual specifications, and with a variety of luxury accommodation options including resort villas, private homes, and cottages at the Ocean Course, there will be something to suit everyone's taste.
The Sanctuary at Kiawah Island Golf Resort is renowned for its unspoiled sea views and exceptional facilities including a top-class fitness center and a number of swimming pools. Their famed southern hospitality will mean you are well looked after during your stay, with staff making sure to cater to your requests.
The resort's villas are another popular choice among golfers. Staying here will give you access to the two interactive pool complexes, on top of the option to have your villa stocked with your preferred food, and free transport to any resort-owned venue, meaning your trip can start as soon as you arrive.
Kiawah Island Golf Resort has over ten highly rated eateries, from a premier steak house to a seafood restaurant, and a classic American pub. As well as amazing food and drink, The Sanctuary's spa is rated five stars by Forbes, and there are options to play tennis and ride bikes across the resort, meaning plenty of options for varied activities on any golf trip to Kiawah Island.
Other attractions near Kiawah Island
Located just 25 miles away from Kiawah Island Golf Resort is Charleston, home to many interesting and historical attractions, shopping opportunities, and restaurants. The city itself is popular with tourists and is regularly ranked as the 'best city in the US' by Travel and Leisure Magazine.
A visit to Charleston will include seeing any of the numerous museums, viewing Fort Sumter, and visiting The Battery, a defensive seawall and promenade which boasts classic southern mansions and old cannons.
How to get to Kiawah Island
Kiawah Island can easily be accessed by car, and for those traveling from Charlotte, Orlando, Atlanta, or Raleigh, the journey can be made in under six hours. Most major airlines also fly direct to Charleston, and from there, Kiawah Island can be reached in around 35 minutes by heading south.
Premier Golf can help arrange your golf vacation for you, from booking tee times and transfers to recommending courses. You can sit and relax as everything is organized for you, so you can start your golf vacation as soon as you reach Kiawah Island.
Kiawah Island Reviews
Great golf
We played the Ocean Course, Turtle Point, and Cougar Point. All were fabulous. With our package we stayed at Shipwalk Villa. In a word the accommodations are tired. The unit we stayed in needs to be spruced up, painted, new carpeting and furniture. For the price we were disappointed.
Wonderful Trip
The Santuary is top-notch. Beautifully maintained grounds, warm and friendly staff and a grand overall feel.
Kiawah Island FAQs
There are six courses at Kiawah Island, five public and one private.
To have a consolidated trip that includes 3 rounds of golf and 4 nights of accommodation, check out our Kiawah Island golf tour package, which includes golfing at The Ocean Course, Cougar Point, and Turtle Point (with options to add Osprey Point or Oak Point.)
Yes. There are 5 public courses on Kiawah Island, including The Ocean Course, the most famous one hosting the 1991 Ryder Cup, the 2012 and 2021 PGA Championships, and the 2003 World Cup. Cassique is the only private course here.
The longest course on the Island, The Ocean Course, has a scorecard yardage of 7,876 yards from the Championship tees.
You are allowed carts on the island, except on The Ocean Course, which is walking only.