California Golf Vacations
Enjoy a golf trip to the the Golden State
Golf vacations in California are the dreams of many golfers. With a diverse selection of top-quality courses in beautiful surroundings, including those near the ocean, in vast parkland, and out in the desert, it's easy to see why. Plus, the West Coast is famed for its laidback lifestyle and near-perfect weather, making California golf vacations a popular choice.
California's flagship golf course, Pebble Beach Golf Links, is iconic. It's played host to the US Open no less than six times and is set to host for a seventh time in 2027. But California golf trips aren't always about the most famous courses. Our California golf packages include some of the best courses in the West, including San Diego's Torrey Pines and the prestigious La Quinta resort in Palm Springs.
"The attraction and superiority of California are in its days. It has better days, and more of them, than any other country."

Ralph Waldo Emerson
California is more than just surfing and golden beaches. It is home to over 900 beautiful golf courses, many of which fall into the Top 100 golf courses in the world, according to Golf Digest. In fact, both Pebble Beach Golf Links and Cypress Point Club made the US top 10.
Join Premier Golf on a luxurious custom trip to California. Enjoy a relaxed, hassle-free vacation organized by the most experienced golf travel company in the US.
The Best Golf in California
The Golden State is known for giving golfers exactly what they want. Take your pick from the phenomenal desert, oceanside or parkland golf courses. Don't forget, there's also the opportunity to experience much more than golf on a trip to this spectacular state. For example, take a trip to Napa Valley and sample the finest wines in the USA.
As part of your California golf trip, why not visit the Hollywood Hills in Los Angeles, or take in the stunning views that make up this golden state, as you take the famous 17 Mile drive through Pebble Beach and Pacific Grove onto the Monterey Peninsula.
Golf vacations to the west coast are like no other and Premier Golf is proud to offer high-end tailored California golf packages to suit any golfer's needs.
Recommended Golf Courses in California
California is home to some of the most famous golf resorts in the world and plays a significant part in the history of the west coast, with the game first being introduced here in 1892. You will not be short of choice when it comes to planning your golf vacation to California with Premier Golf.
Pebble Beach
Regularly listed as one of the greatest courses in the worlds, the captivating Pebble Beach Golf Links is also widely regarded as being one of the most beautiful courses in the world, thanks to its rugged, dramatic coastline.
Host of the US Open six times, as well the PGA Championship, the annual AT&T Pebble Beach Pro-Am, and the US Women's open in 2023.
To make your trip even more memorable, be sure to take in some of its incredible neighboring courses such as Spyglass Hill, The Links at Spanish Bay, The Hay and the Del Monte Golf Course, where legend Peter Hay was Head Professional for many years, as well as Pebble Beach after moving across the pond from Scotland.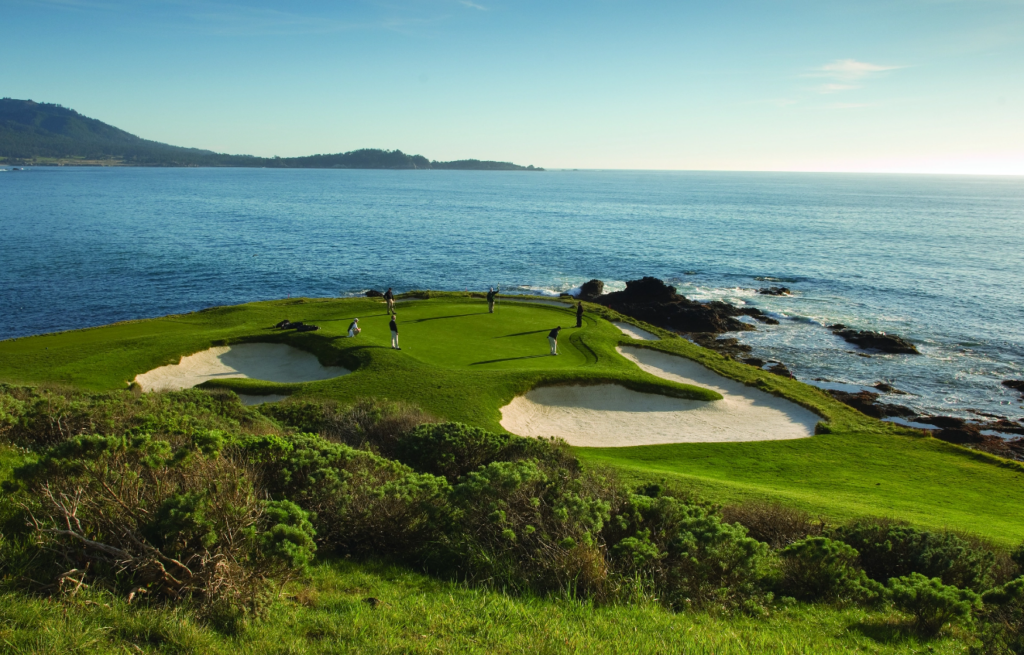 Greg Norman Course, PGA West
Part of the famous La Quinta resort, this Greg Norman-designed golf course in the Coachella Valley was created to capture the true essence of the outback. It boasts panoramic views and shark blue water within its nine lakes, and has an abundance of wildflowers, sand and 68 acres of beautifully maintained turf.
It is a perfect challenge for golfers of all levels, and leaves you wanting to come back time and time again.
Torrey Pines
The Torrey Pines Golf Course is located 20 minutes north of San Diego, in beautiful La Jolla. Both the North and South courses are famous for many reasons, including being the host of the 2008 and 2021 US Open, as well as playing host to the Farmers Insurance Open on the PGA Tour each year.
Situated atop cliffs overlooking the Pacific Ocean, it's sure to be an experience any golfer should partake in when visiting southern California. One memory Torrey Pines that will stand out in many golf fans minds is Tiger Woods' impressive comeback to win the 2008.
Monterey Golf Tour
Monterey, located in Monterey Bay on the central coast of California, has been labeled as one of the best places to live in California, and has an abundance of golf courses within its vicinity to help define your trip with Premier Golf.
Famed for its seafood and sea life aquariums, and lined with Pacific Coast beaches, it is a laid-back, cultural setting, highly regarded among locals and visitors alike.
Book your California golf package with Premier Golf
Let us organize your trip to California with our extensive knowledge of Golf along the west coast. Contact a representative to create your own tailored golf trip to California.
California Golf FAQs
Visit the USGA or SCGA (Southern California Golf Association) website to find eligible golf clubs in California and pick one to play at. You need to post scores from at least 54 holes, which can be any combination of 9- and 18-hole rounds, and post them online through the GHIB app or at the course. You will get your GHIN number after establishing your SGA/SCGA Handicap index.
Some of the most iconic golfing regions of California include the Monterey Peninsula's Pebble Beach and Torrey Pines in La Jolla, San Diego. In the Cali Desert, Palm Springs offers world class golfing experiences. There are also great courses in the Napa Valley, where you can play among the Vines of the Wine country.
California has a range of golf courses from the coast to the mountains, meaning you could enjoy playing all year round. San Diego in particular has a perfect year-round climate for golf.
The best time to play golf in California is during "Shoulder Season" – Spring or Autumn. You can play golf in California at any time of year, but late spring and early fall is the best weather to avoid the hot summer and cold winter, and is when the courses are in pristine condition.
Our California golf packages always include the green fees for a smoother experience.