Kohler Resort
With four championship courses designed by Pete Dye, the Kohler Resort in Wisconsin is one of the top golfing destinations in the United States.
Kohler Resort's courses rank among some of the country's best, each bringing unique qualities that supply drama and excitement to every round. Of course, Kohler is also home to the famous Whistling Straits and Blackwolf Run courses. 
Kohler golf courses offer guests the opportunity to experience exceptional play on courses that have hosted the world's biggest tournaments, including the PGA Championship, Ryder Cup, and US Women's Open.
Overlooking Lake Michigan, Kohler Golf Resort is both picturesque and full of all the amenities you could need for a golf trip to Wisconsin. When you're not on the fairway, you can look forward to luxury facilities, a five-star spa, and excellent dining options. 
Golf Courses at Kohler Resort
With courses that featured in the 2015 PGA Championship, 2012 US Women's Open, and the 2021 Ryder Cup, those teeing off at Destination Kohler Resort have the chance to play in the footsteps of the pro's.
Whistling Straits
Built into the Wisconsin coast, the Straits is reminiscent of traditional Scottish and Irish links courses, and its windswept terrain offers a challenging round with breathtaking views. Having hosted the Ryder Cup in 2021, guests can relive the iconic moments while winding their way to the final hole.
Irish Straits
The serene landscape, just inland from the lake, may give players a false sense of security when they play the Irish Straits. Water frequently comes into play as four streams wind their way through the course, and other hazards in the form of dunes and grassland feature regularly.
Blackwolf Run – Meadow Valleys
Sculpted into the natural Wisconsin landscape, this course features beautiful meadows and valleys to bring elevation change into play at various points. This long and difficult course will be a test for amateurs and professionals alike.
Destination Kohler – 3 Night Package
Inn on Woodlake
4 rounds of golf, 3 nights accommodation
Double Room
Golf at The Straits & Irish at Whilsting Straits and River & Meadow Valleys at Blackwolf Run
Complimentary round at short course The Bath's included
Cart fees, caddie fees (both walking & forecaddie)
One hour group lesson with instructor. Advance reservations required at time of booking package
Complimentary green fees for replay golf on Meadow Valley, Irish and the Baths course (cart and caddie fees not included)
Unlimited use of practice facilities
Blackwolf Run or Whistling Straits logo valuable pouch
Daily bag storage, cleaning, locker and shoe service
One hour at the Indoor Golf Swing Studio
Sightseeing and restaurant recommendations
Price from $1,507 per person
Based on 2 golfers sharing a double/twin room
Off peak season (October)
All taxes and fees included
Price excludes flights, airport transfers and caddies
All rates are subject to change without prior notice and vary according to seasonality and hotel or golf course availability.
Travel insurance is always recommended.
Facilities at Kohler Resort
Kohler Resort is famed for having the only five-star spa facility in Wisconsin, offering deluxe treatments and state-of-the-art amenities, guaranteeing that guests leave feeling refreshed and rejuvenated. Sitting on the shore of Lake Michigan, Kohler's connection to water means that they are able to provide activities such as fishing and kayaking for guests who want to immerse themselves in the Wisconsin wilderness.
Lodging at the resort is varied, giving guests the choice to customize their golf vacation and make it uniquely their own. Guests can stay at The American Club Carriage House, which offers convenient access to the resort's spa, or they can lodge at the Inn on Woodlake which boasts unspoiled views of the natural Wisconsin landscape. Destination Kohler's cabin collection is one of their most sought-after options, and guests can decide from a series of private properties, each with its own unique character. Each cabin guarantees a quiet wooded location and promises a peaceful getaway surrounded by nature.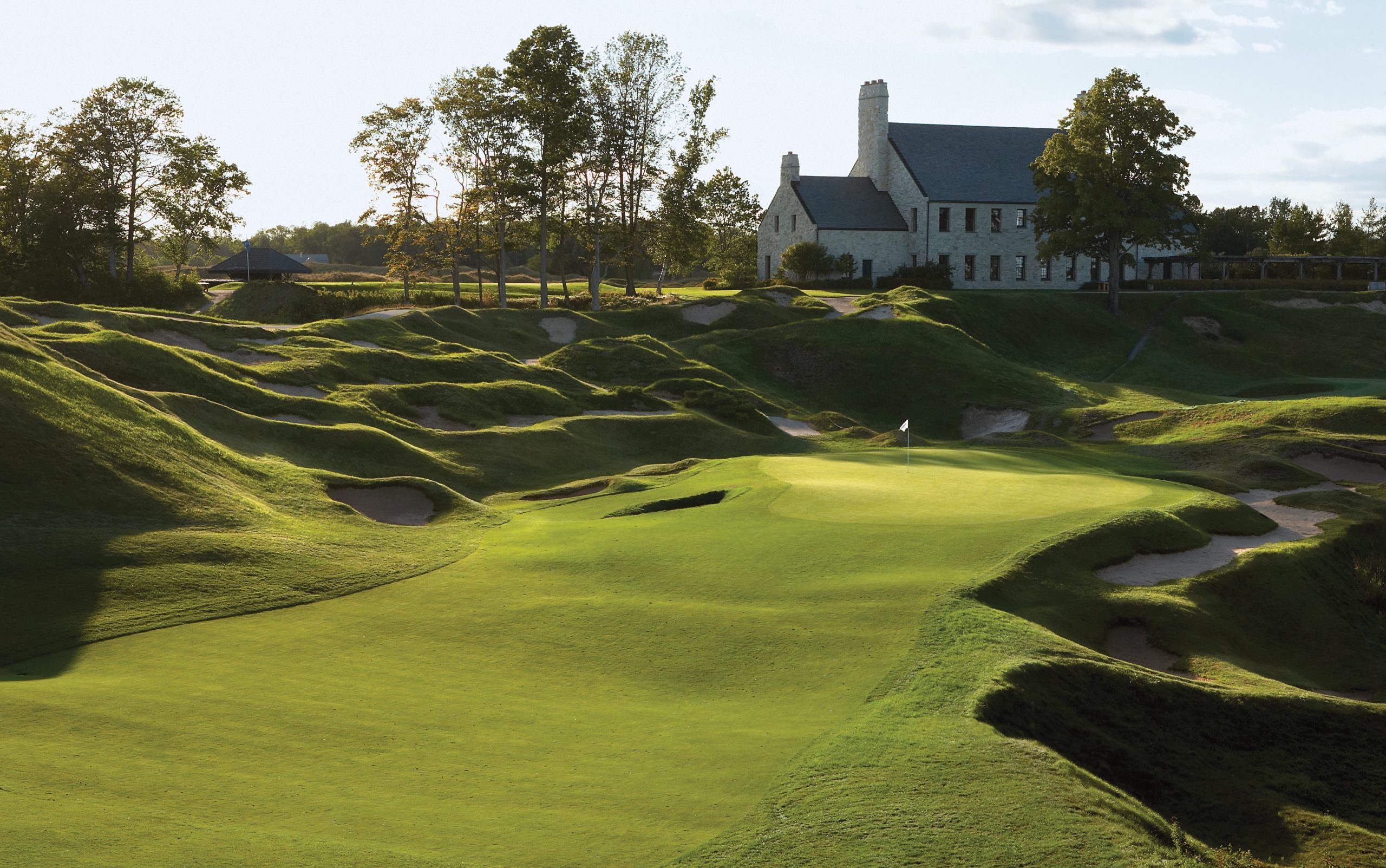 Attractions near Kohler Resort
There are a variety of exciting and varied seasonal activities surrounding the Kohler Wisconsin Resort. During the winter, guests can expect to enjoy cross-country skiing, curling, and ice skating, while summer months favor activities such as hiking, or paddle boarding on the lake. Further from the resort, local attractions include the John Michael Kohler Arts Center, which presents contemporary American art and crafts. The area surrounding Kohler offers unrivaled access to nature, and those looking to explore will be spoiled for choice of where to go.
How to get to Kohler Resort
Kohler can be easily accessed by car and is close to a series of airports. For those flying, the resort is one hour north of Milwaukee (MKE), one hour south of Green Bay (GRB), and two hours north of Chicago (ORD).
Premier Golf is able to arrange transfers to and from the airport and can help to organize every other element of your trip, including tee times and accommodation. We have been providing luxury golf vacations to our customers for over thirty years, and our experience allows us to provide five-star service, every time.
Kohler Resort Reviews
The course and facilities were top notch.
An experience every golfer should have. A must golf trip for every golfer.
A must visit if you are a golf fan
This was my first real golf trip and it did not disappoint. We played the Irish and Meadows Valley courses at Black Wolf Run and they were pristine. They also have a 10 hole par 3 that was a fun walk with the Sunday bags they included. The other two days we played the Rivers and Straights course at Whistling straights and it was breathtaking. To be able to play on a course where a Ryder Cup was held was truly remarkable. Our caddies at the Straights Course made us feel like pros for a day (even though we didn't play like one). If this is your first time going, I would opt for forecaddies. They can help you with aiming points and tips on where to avoid trouble. They know these greens like the back of their hand and will easily shave strokes off of your round. One free perk that was a pleasant surprise were free brats at the turn. Who doesn't like free? The weather and wind can be dicey so make sure to plan accordingly. We had sunny weather all 4 days but the wind off the lake can make you chilly if you aren't dressed for it. The American club where we stayed was by far the nicest hotel I have ever stayed at and is super close to all the courses. Our travel specialist Connor Vogel took care of all the details and made planning hassle free.
First Class Golfing Resort
Every aspect of the Kohler Golf experience was A+. Everyone from caddies to clubhouse staff were professional and friendly. We are considering it to be an annual destination for our traveling golf group.
More Great Destinations in Wisconsin
Geneva National Resort
Geneva National Resort Geneva National Resort & Club lies within a picturesque lakeside setting with beautiful scenery surrounding the retreat.
Containing three championship golf courses all designed by some of golf's greatest icons, the resort guarantees legendary golf on every visit.
Kohler Resort FAQs
Kohler has four golf courses, including the Straits and the Irish Course at Whistling Straits and the River Course and Meadows Valleys Course at Blackwolf Run.
The course is in the Town of Mosel in Sheboygan County, north of Sheboygan, in Haven's unincorporated community.
Yes, the Whistling Straits golf course is open to the public, but given the high demand, you will need prior booking.
The closest airport is the General Mitchell International Airport in Milwaukee, about 60 miles from Kohler.
Depending on which tees and course is played, the length varies. The Straits course is longest at 7,790 yards from the black tees, 7,201 from the green tees, 6360 yards from the white tees, and 5,564 yards from the red tees.
The prices vary at different times of the year, but you can pay for golfing at Whistling Straits as part of our Kohler Resort package.
The Whistling Straits golf course was first opened in July 1998.