Bandon Dunes Golf Resort
Immerse yourself in Bandon Dunes, a world-renowned golf resort on Oregon's Pacific coastline. With its steep cliff edges, 1,000-acre greenery, and six links golf courses, a Bandon Dunes golf trip offers a Scottish-style golfing experience on US soil.
Bandon Dunes Private Lodge
Bandon Dunes Private Lodge The ideal way for groups to experience the spectacular golf of Bandon Dunes.
Stay in a luxurious private 4-bedroom lodge located just off the fairways of the iconic Sheep Ranch and access the six distinct courses of one of the most popular golf resorts in the world.
Bandon Dunes Golf Courses
The resort's first course, Bandon Dunes, opened in May 1999. The course was designed by Scotsman David McLay Kidd, traditionally offering the resort guest's lowest scores.
Pacific Dunes (designed by Tom Doak), Bandon Trails, and Old Macdonald followed from 2001 to 2010, with a fifth course (Bandon Preserve) added in 2012, offering a 13-hole experience designed by Bill Coore and Ben Crenshaw.
In 2020, Bandon Dunes Golf Resort welcomed Sheep Ranch, a new course located just north of Old Macdonald, completing the links lineup. Sheep Ranch offers a picturesque golfing experience, with many of the holes featuring shots over water and cliffs.
Bandon Dunes also boasts a 100,000-square-foot putting course, designed by Doak and Urbine, adjacent to the first tee at Pacific Dunes. The Punchbowl is an immersive 18-hole golf course that takes around an hour to play.
Bandon Dunes – 4 Night Package
The Inn at Bandon Dunes
5 rounds of golf, 4 nights accommodation
Forrest Double Room
Golf at any of Bandon Dunes, Pacific Dunes, Bandon Trails, Old MacDonald, Sheep Ranch or Bandon Preserve (depending on availability)
Porterage Included
Sightseeing and restaurant recommendations
Price from $1,030 per person
Based on 2 golfers sharing a double/twin room
Off peak season
All taxes and fees included
Price excludes flights, airport transfers and caddies
All rates are subject to change without prior notice and vary according to seasonality and hotel or golf course availability.
Travel insurance is always recommended.
Amenities at Bandon Dunes
Aside from its world-renowned golf courses, a Bandon Dunes golf package has so much to offer visitors. All 8 restaurants located on the resort have been inspired by the kindred spirit of Bandon Dunes' golfing experience, offering locally-sourced Pacific Northwest Cuisine along with Scottish-style pub fare and microbrews.
There are also plenty of bars to enjoy, along with a fitness center, spa & sauna. If you're planning an active adventure vacation in Bandon Dunes, hiking trails, the Labyrinth, and fishing areas will keep you entertained outside of the golf courses. There's also ample accommodation on-site, including single rooms, double rooms, and suites.
Attractions near to Bandon Dunes
While Bandon Dunes Golf Resort offers extensive entertainment, there are a number of must-visit attractions located just a short walk or drive from Bandon Dunes. Whiskey Run Beach is a popular spot located near Sheep Ranch Golf Course, while Whiskey Run hiking trails offer a great day out for those looking to stay active. Elliot State National Forest is also located less than 1 hour north of the resort, offering a ride through Coos Bay and Bunker Hill.
Bandon Dunes also offers a Shuttle Service to help you navigate the resort.
How to get to Bandon Dunes
Bandon Dunes is located just 10-minutes from the town of Bandon, Oregon. Southwest Oregon Regional Airport (OTH) is a short 35-minute drive from Bandon Dunes, with regular flights from Denver, Colorado, and San Francisco, California.
Eugene, Oregon, is around a 2.5-hour drive from the resort, Eugene Airport (EUG) also offers daily nonstop flights from cities including Burbank, Chicago, Las Vegas, Los Angeles, San Jose, and Seattle.
Bandon Dunes also offers a private air charter option, flying directly to Bandon State Airport (S05).
Bandon Dunes Reviews
There are no reviews yet. Be the first one to write one.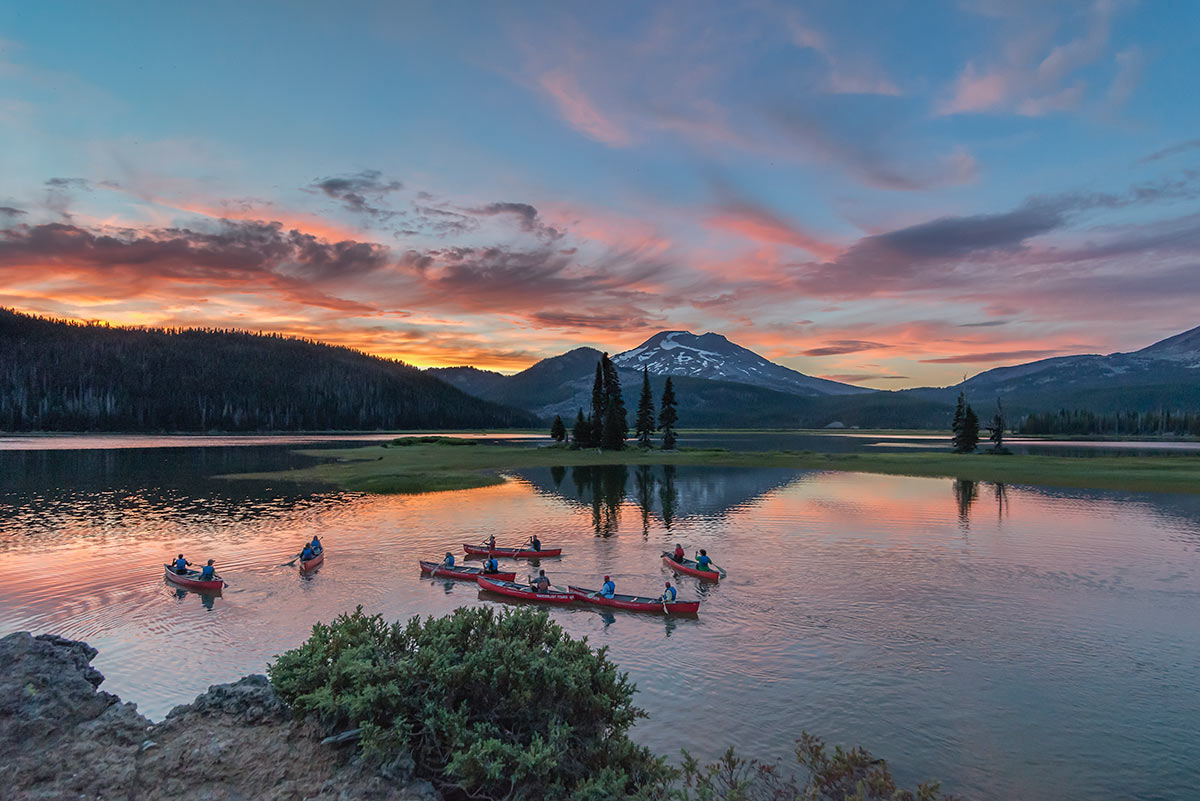 More Great Destinations in Oregon
Sunriver Resort
Situated in the heart of Oregon, the Sunriver Resort boasts 63 holes across four award winning courses.
Designed by renowned architects, the golf courses are maintained to an exceptional standard and offer a great variety of styles including links and woodland, all look as beautiful as they play.