Dominican Republic Golf Tour
Whenever you visit the Dominican Republic, you can count on temperatures in the 80's year-round and warm tropical breezes off the Caribbean Sea. The white sand beaches are lined with beautiful coconut palm trees and the resorts sit adjacent to the ocean.
Enjoy swimming pools, inside or al fresco dining options, and a completely relaxed vacation experience within these safe and secure resorts. Best of all, the service of the local Dominican staff in restaurants and golf clubs is very polite and genuinely friendly, many seasoned travelers return year after year due to the warm Dominican hospitality.
Best of Dominican Republic Golf Package
For those who cannot decide between Punta Cana or Casa de Campo, why not combine them both for our Best of Dominican Golf Package?
Enjoy the all-inclusive services at Punta Cana and Casa de Campo, enjoy three wonderful nights at each resort and five great rounds of golf. All meals are included plus the beverages, resort amenities and outstanding service provided at both destinations.
Best of Dominican Republic – 8 Night Itinerary
Day 1
Arrive into Punta Cana Airport (PUJ) and private transfer to Casa De Campo. Arrive at the resort and check in via personalized concierge, there will be a shuttle ready to transport you to your room after.

Optional golf on The Links course, or take a tour of the property in your personal golf cart that will be waiting for you at your room. For dinner head over to La Marina and dine at La Casita while overlooking the setting sun.
Day 2
Awake and take a walk, or your golf cart, over to Lago Restaurant where you will experience a world-class breakfast (all-inclusive). After breakfast play Teeth of the Dog , rated 20th on Golf Digest's 2023-2024 "World's Top 100" list. Enjoy inclusive drinks and food while playing your round from Oasis stands and golf carts.

Have lunch after your round at the 19th Hole while overlooking the 18th green. Dine at either La Cana restaurant or La Piazetta at Chavon.
Day 3
After breakfast at Lago Restaurant, take the transfer shuttle to Dye Fore Links. Play a combination of the 9 hole courses, Chavon, Marina, and Lagos. Lunch at Dye Fore Bar, and then play the remaining 9. Return to Chavon and dine at La Piazetta or the Minitas Beach Club.
Day 4
Breakfast at either La Cana or Lago, and golf at Dye Fore Links. After golf make your way to Minitas and enjoy lunch by the beach.

Relax in the afternoon on the beach or by the pool, for a last dinner, try either SBG or Causa for a phenomenal dining experience.
Day 5
After breakfast,  transfer over to the Westin Punta Cana. Upon arrival, either enjoy an optional round of golf at La Cana or Corales or enjoy the Westin Pool or Beach area. For Lunch, head over to the exceptional Anani Restaurant (all included).

For Dinner, try the new Brasa restaurant where you will indulge in steak and wine.
Day 6
Walk out of your room straight into the incredible breakfast display at the Anani restaurant. Prepare for the shuttle to Corales Golf Course. After signing in head over to the practice area or spend your time soaking in the incredible ocean view that surrounds the first teein.

After your round, have lunch at the Playa Blanca beach restaurant, and sample their notorious "Boca Chica" dish. For Dinner head over to Bao and enjoy some delicious Asian-fusion cuisine.
Day 7
After breakfast at Anani restaurant, make your way to La Cana Golf Course where you will greet your caddie for the day. After playing your first 18 holes, lunch at The Grill at La Cana Golf & Beach Club. Play the remaining 9 holes in the afternoon for an incredible 27 hole day.

For Dinner, either check out the awesome spread Anani has prepared or sample one of the other restaurants on property, such as La Yola or Bamboo (not included, be sure to make a reservation).
Day 8
Enjoy breakfast and prepare for Transport to one of the most spectacular courses in the Dominican, Punta Espada. This Jack Nicklaus course will blow you away from the moment you arrive. Enjoy the photo opportunity on the 2nd Tee Box, one of the best views on any golf course.

After your round, have lunch at the Punta Espada Golf Club next to the pro shop, and then hop in your transport to take you back to the Westin. After an afternoon relaxing, have a nice dinner at one of the Westin's amazing restaurants.
Day 9
For your last day, enjoy a final all-inclusive breakfast from Anani, and either prepare for a relaxing last couple of hours at the pool located in the center of the hotel or take the 30-second walk to the resort's beach and soak in the crystal clear water. 

On departure, you will be taken to the airport via private transfer and be greeted by a luggage handler. Departure usually isn't a trip highlight, however, the VIP whisking service will have you in the VIP lounge enjoying inclusive food and beverages within 15 minutes of arrival at the airport. If you really want to make the most of your VIP experience, take a dip in the lounge pool and watch the planes take off as you await your departure.
Tour Summary
8 nights accommodation
Punta Cana & Casa de Campo
5 rounds of golf:
Corales GC
Punta Espada GC
The Links (x2)
Dye Fore GC
Teeth of the Dog GC
All inclusive package including dinners, drinks and transfers
Tour does not include Flights
Pricing
Casa de Campo & Punta Cana Resort rounds of golf
8 nights 5* All Inclusive Luxury Accommodation
Casa de Campo Superior Casita
Westin Punta Cana Ocean View
Golf at Corales GC, La Cana, Punta Espada, Teeth of the Dog, Dye Fore & The Links
Access to Minitas Beach Club
Transfers
Sightseeing and restaurant recommendations
Price from $4,510 per person
Based on 4 golfers sharing
Off peak season (April 24)
All taxes and fees included
Price excludes flights and caddies
All rates are subject to change without prior notice and vary according to seasonality and hotel or golf course availability.
Travel insurance is always recommended.
Tour does not include Flights
Golf Courses
Corales GC
Designed by Tom Fazio and opened in 2010, Corales hosts the PGA Tour every spring and is among the prettiest seaside courses you will ever play.
The conditioning is always fantastic, and although carts are included, caddies are mandatory and very helpful in reading putts and enhancing your enjoyment.
Par 72
5,124 to 7,650 yards
5 sets of tees
La Cana GC
With 27 holes of golf, the three nines (Tortuga, Hacienda and Arrecife) weave through the palm groves and jungle straight down to the beach.
Pete Dye designed this course so that 14 holes have ocean views and many require careful navigation around the ponds. A fun course to play and remember your camera for the ocean holes!
Par 72
5,270 to 7,344 yards
5 sets of tees
Punta Espada GC
Quite possibly Jack Nicklaus' most beautiful tropical creation, Punta Espada gives you the impression that almost every hole is a "signature hole".
An upscale course opened in 2006 that competes with any in the Caribbean or Mexico, with more than half of the holes with Caribbean Sea views. This course is located in another location but transfers are included.
Par 72
5,052 to 7,366 yards
4 sets of tees
Teeth of the Dog
Long considered the best golf course in Latin America, it has been ranked in the Golf Magazine World Top 100 for over 50 years.  The variety of holes along the sea, including the world famous 5th hole, a par-three with carry over the azul waves, or the similar 16th, will remain etched in your mind for years to come.
Since 1971, The Teeth of the Dog has been all bite, no bark, and one of the best tropical golf courses in the world.
Par 72
4,827 to 7,263 yards
6 sets of tees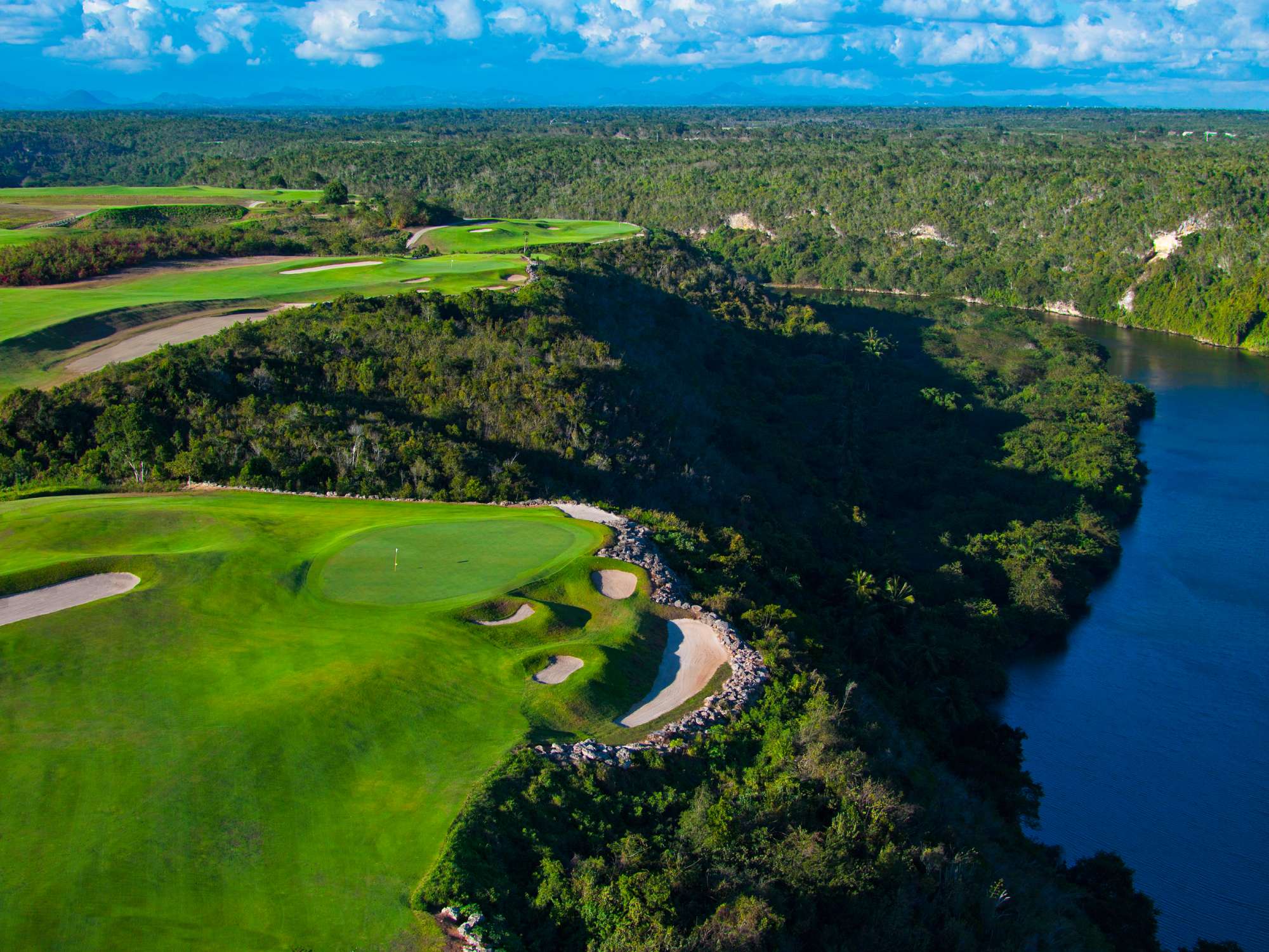 Dye Fore GC
Opened in 2002, Pet Dye created the 27 hole Dye Fore course along 300 foot cliffs and with views Chavon River valley and The Marina.
The stunning homes along the course will keep you entertained, but no more than the three-nines named Chavon, Marina and Lagos, with wide open expanse and vistas for miles. Dye created great challenge here that most agree is a top five course in The Dominican Republic.
Par 72
5,225 to 7,724 yards
5 sets of tees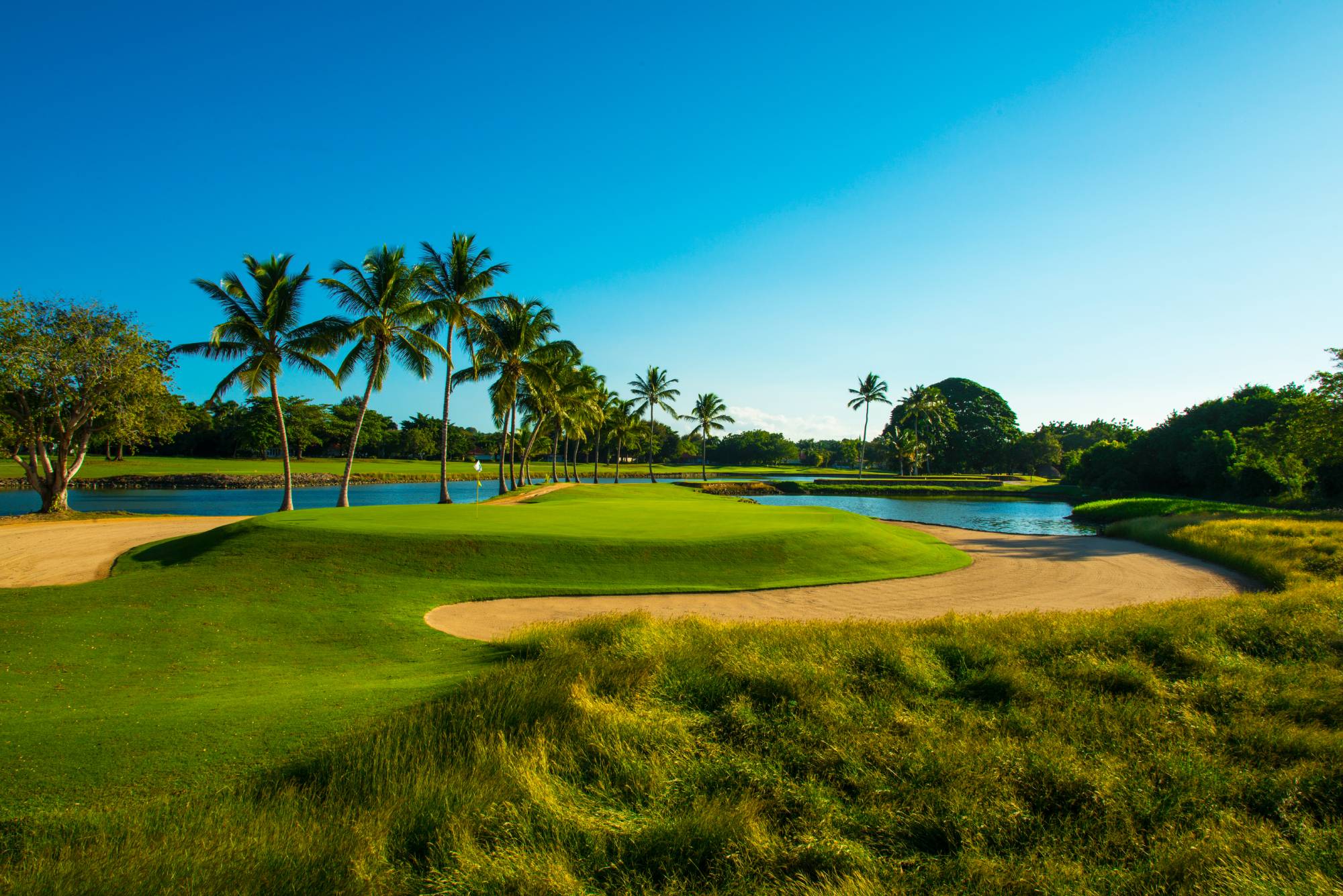 The Links
Often the "third" course at a resort is intended for beginners or group events but not so at Casa de Campo with The Links, a classic Pete Dye layout from 1974.
Enhancements in 2012 made the course significantly more challenging and rebuilt green complexes. Enormous waste bunkers make it slightly more forgiving than the other courses here but it's certainly no pushover! (Pat 71 and 4436 to 6739 yards with 5 sets of tees).
Par 71
4,436 to 6,739 yards
5 sets of tees
Accommodation
Westin Punta Cana & Tortuga Bay
The Westin Punta Cana is a traditional hotel setup, with large rooms, all enjoying views of the pool area and at least a glimpse of the ocean. Whereas the Westin tends to mesh better with golf groups, the more luxurious villas at Tortuga Bay, all designed by Oscar de la Renta, are targeted primarily for couples.
Both resorts are nearby one another and offer numerous dining and drinking options on the all-inclusive plan (highly recommended!), gym and spa services, and a plethora of other services and activities to meet all of your requirements.